According to the latest National Coffee Association trends report, 10% of U.S. coffee drinkers are now drinking cold brew coffee daily.1 The smooth, rich taste of cold brew has gained devoted followers—and now the food industry wants in. Cold brew coffee chocolate? How about yogurt? Let's see what's brewing in the food industry.
The Growth of Cold Brew
Though coffee shop cold brew has outpaced retail cold brew, Mintel reported that ready-to-drink (RTD) cold brew grew by a whopping 580% from 2011 to 2016.2 Millennials, who are already known for their high consumption of iced coffee, frozen coffee drinks, and cold lattes, are driving the cold brew trend.
National foodservice chains like Starbucks, Dunkin' Donuts, and Peet's Coffee are doing their part in mainstreaming cold brew coffee. And retail options are now easy to find as well—in coffee concentrates and RTD options. Some innovations at the retail level include canned nitrogen-infused cold brew coffee (e.g., Stumptown Nitro Cold Brew Coffee) and flavored cold brew coffee (e.g., Chameleon Cold Brew Mocha), suggesting that manufacturers are trying to bring more of the coffee shop experience to retail consumers.
A Taste All Its Own
For those speculating on whether this Millennial obsession is just a gimmick or here to stay, it's important to note that cold brew coffee has its own unique taste. Without heat to solubilize some of coffee's more bitter and acidic components, cold brew coffee provides a sweeter, richer taste generally preferred by those who find hot brew black coffee unpalatable. For those sensitive to bitter notes (a trait that's genetically determined), drinking cold brew may be their first time actually tasting the intricate flavors inherent in roasted coffee beans.
For this reason, cold brew coffee is the perfect entry point (especially for young people) into the world of coffee. And for those who can only drink hot brew coffee with cream and sugar, it's a welcome opportunity to ditch the added calories and drink it black. Some have suggested that consumers are also purchasing cold brew coffee in place of other cold beverages like soda, as a healthier energy-boosting option.
Using Cold Brew Coffee in Foods
The cold brew trend has spurred the development of a variety of food products boasting cold brew as an ingredient. Whether the unique taste of cold brew comes through in the finished product is for consumers to decide, but food manufacturers won't be deterred from making their products cool with cold brew. Here are some of the retail foods we've seen:
Chocolate - Trader Joe's Cold Brew Coffee Chocolate Bar with a cold brew coffee-infused caramel filling and Wild Ophelia Mix & Match Cold Brew Chocolate Coffee Bites with a liquid High Brew coffee center
Ice Cream - Ben & Jerry's Chillin' The Roast Truffles Cold Brew Coffee Ice Cream, which includes cold brew coffee liqueur-filled truffles, and Tillamook Stumptown Cold Brew Coffee Ice Cream, a coffee ice cream made with cold brew steeped for more than 12 hours
Yogurt – Tillamook continues the trend with Tillamook Farmstyle Greek Stumptown Cold Brew Coffee Yogurt, a product that combines your breakfast yogurt with your morning coffee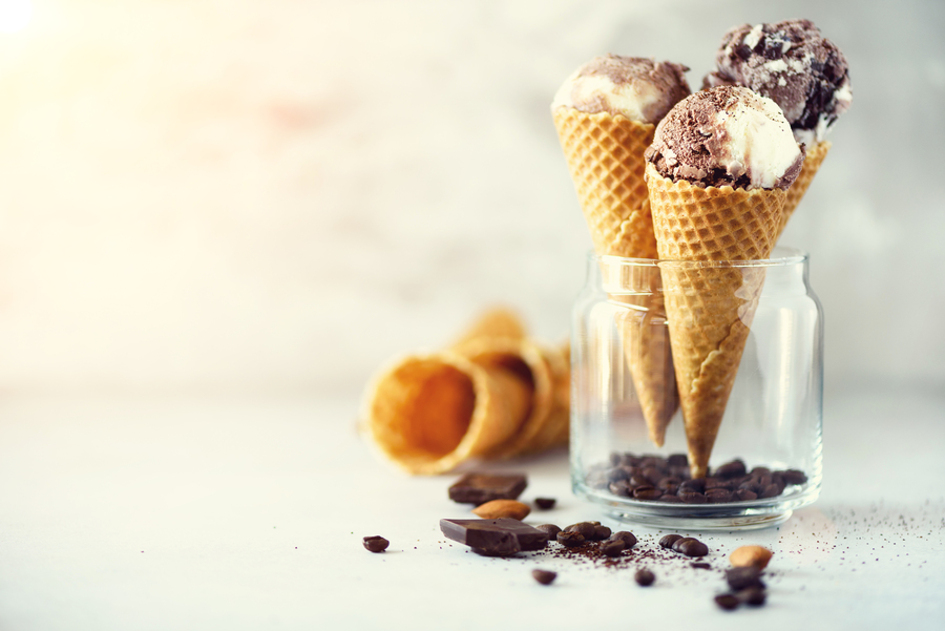 There are also plenty of online recipes that can serve as inspiration for future retail products! In addition to beverage ideas like cold brew martinis and cold brew dirty chai, Chameleon Cold Brew's recipe page offers a number of food ideas:
Overnight Oats
Popsicles
Tiramisu
Chia Pudding
Cupcakes
Waffles
Vinaigrette
Marinade
Chutney
Cereal Bars
Acai Bowls
Add Some Buzz to Your Products
Now's the time to catch the cold brew wave! And whether or not you follow this trend, you can always give your products the energy boost consumers are looking for through ingredients like vitamins, amino acids, and botanicals that support healthy energy levels. With a custom nutrient premix, you can add some buzz to any product! Click to download our brochure on Custom Nutrient Premixes.
References
1. National Coffee Association. (2018). NCA National Coffee Drinking Trends 2018. Retrieved from http://www.ncausa.org/Industry-Resources/Market-Research/National-Coffee-Drinking-Trends-Report
2. Sisel, E. (2016). The Strength of Cold Brew. Retrieved from http://www.mintel.com/blog/drink-market-news/the-strength-of-cold-brew