Coffee pods continue to be the fastest growing category in coffee, with instant coffee mixes close behind.1 Consumers are loving today's options for making their own single-serve beverages—including pods, stick packs, flavored water drops, and even dry beverage pouches that dissolve in water.
Pods for Hot Beverages
With single-serve brewers now a fixture in offices and homes throughout the country, Keurig's K-Cups have fundamentally changed the way Americans do coffee. Pods grew from a 0.6% share of U.S. coffee sales in 2000 to a whopping 34% by 2014, and even chain coffee shops like Starbucks and Dunkin' Donuts jumped at the chance to grow their retail lines with K-Cups.2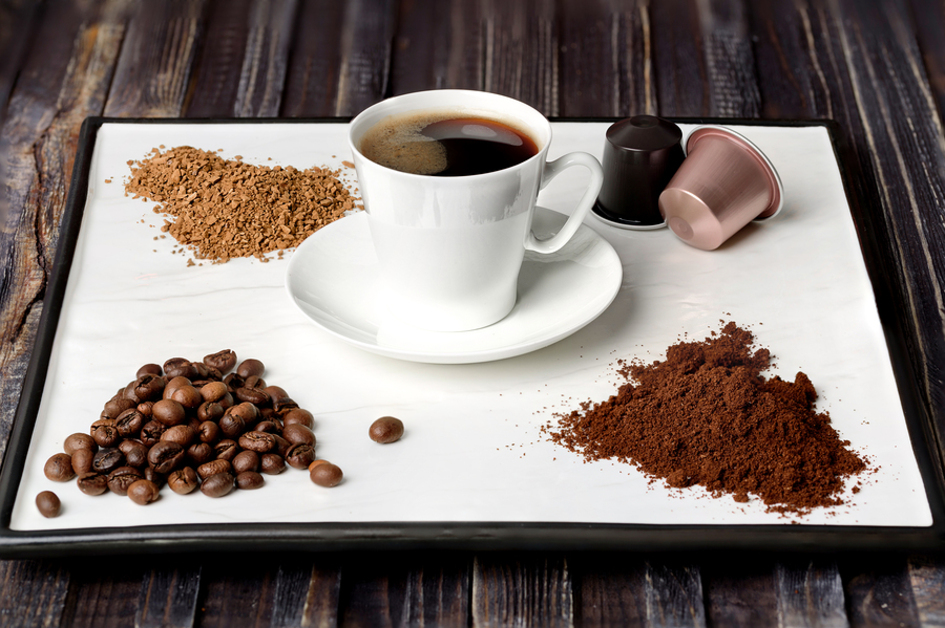 Pods deliver on the promise of fresh coffee in exactly the desired amount, without the hassle of measuring or clean up. Available in a variety of roasts, flavors, and even caffeine levels, coffee pods allow for a level of customization not previously available in workplaces and easily accommodate the varied preferences of family members at home. The expansion of K-cups to include a wide range of teas and hot cocoas brought non-coffee drinkers on board.
Stick Packs
Stick packs are a lightweight, on-the-go format for powdered beverages, with uses ranging from sports drinks like Gatorade Thirst Quencher Powder to low-calorie water enhancers like Crystal Light On The Go. Stick packs can be sprinkled into water bottles or, for instant coffees like Starbucks VIA Instant, can be added directly to a mug of water (hot or cold).
Dissolvable Pouches
The Sol-U-Pak made by Watson is an innovative beverage powder format consisting of a pouch that dissolves in water. Made with edible packaging film, the Sol-U-Pak dissolves in about ten to twenty seconds. It works well with shaker bottles, where the user can drop in the pouch and shake until the pouch dissolves and the powder disperses.
The Sol-U-Pak can be used for a variety of dry beverage mixes—for example, a lightly sweetened, refreshing fruity drink or a thick, chocolatey protein shake. These pouches are especially desirable for pre- and post-workout beverages containing protein, to help consumers avoid carrying around large containers of protein powder or having to pre-measure at home.
Flavored Water Drops
Also known as liquid water enhancers, flavored water drops add some flavor and fun to bottled water, typically without adding calories. The popular brand MiO has expanded to include product lines with functional benefits. MiO Energy, MiO Vitamins, and MiO Electrolytes allow consumers to customize their beverages with the ingredients most important to them. See how Watson can provide a custom nutrient premix for your beverage.
Pods for Cold Beverages
Drinkfinity is a pod beverage system recently launched by PepsiCo. The starter kit includes a set of beverage pods and a water bottle with a unique cap designed to puncture the pods. The pods contain a liquid concentrate of juice, sweetener, flavor, and vitamins and are available in several flavors and sweetness levels.
What's Driving the Trend?
While it depends on the particular product, factors associated with the rise in single-serve beverage powders and concentrates include:
1. Convenience – rip-top packets, dissolvable pouches, and pod systems are all designed to make life easier and fit the demands of our busy lives
2. On-the-Go – packs and pods are lightweight and portable, and easy to bring to work or to the gym
3. Participation – as with meal kits, the do-it-yourself aspect is engaging and can increase user satisfaction
3. Health and Wellness – especially low sugar, low calorie, and fortified with vitamins and minerals
4. Flavors – an array of flavors keep it fun and fresh, giving consumers variety throughout the day
5. Customization – consumers enjoy making their beverages just the way they want it, choosing the flavor, concentration, and nutrients
Bringing It All Together
In the beverage world, convenience is king. And as an expert in dry beverage mixes, Watson can bring that convenience to you. We can blend, instantize, spray dry, and granulate for a perfectly blended mix that's customized for your consumers.
Watson can make your complete beverage mix—blending flavors, colors, sweeteners, gums, vitamins, minerals, proteins, and botanicals—and even pack it into Sol-U-Pak pouches! Grow your beverage line with Watson!
Click to access our complete guide on spray dried nutrients or watch our video on choosing a custom nutrient premix supplier.
References
1. Euromonitor International. (2017). The Global Coffee Pods Market in 2017: The End of an Era? Retrieved from http://www.euromonitor.com/the-global-coffee-pods-market-in-2017-the-end-of-an-era-/report
2. Team, T. (2016). K-Cups: The New Growth Driver for Starbucks? Retrieved from https://www.forbes.com/sites/greatspeculations/2016/07/19/k-cups-the-new-growth-driver-for-starbucks/#7ca42738a8e2