While milk producers face economic headwinds and demand for fluid milk slows, dairy processors continue to prove that innovation is key to holding consumers' attention. Trends like protein-fortified ice cream, a cultured competition to become the next Greek yogurt, and the expansion of bold flavors across fluid milk, yogurt, and ice cream are keeping dairy fresh and exciting for 2018.
Dairy Economics and Market Trends
This year has seen continued growth of the global milk supply, along with rising production costs and declining pay prices for U.S. dairy farmers. Despite what some are calling an economic crisis in U.S. dairy farming, dairy products have become increasingly relevant to today's consumer due to benefits like convenience, portability, and nutrition—all supported by innovation.
The wide variety of dairy products in the market addresses a number of trends seen throughout the rest of the food and beverage industries such as snacking, clean label, bold flavors, on-the-go, protein, environmental sustainability, and premiumization. Processors are well-positioned for success when they keep consumer needs top-of-mind. Here's a look at the biggest trends in dairy:
Bold New Flavors
Dairy processors have kicked it up a notch with attention-grabbing flavors. This includes products with a bold or unexpected flavor, like Oakhurst Dairy's Wild Blueberry Milk, as well as products with creative flavor combinations, such as Dreaming Cow Lush Grassfed Yogurt Drinks in lemon passionfruit, peach ginger, and blueberry boysenberry. Dreaming Cow yogurt drinks also provide one full serving of veggies per bottle from carrot, beet, or pumpkin.
Tillamook Farmstyle Whole Milk Greek Yogurt is now available in raspberry fig and Meyer lemon pear, while Dreaming Cow Cream Top Yogurt comes in dark cherry chai, maple ginger, and blueberry cardamom. With yogurt, bold flavors can also be achieved through mix-ins, as with Chobani Flip S'More S'Mores and Cinnamon Bun Fun, which include mix-ins such as graham cracker pieces, cinnamon roasted pecans, caramels, and milk chocolate bits.
Top ice cream seller Halo Top Creamery, popular for its lower calorie, protein-fortified ice creams, is increasingly becoming known for its extensive range of flavors, with mochi green tea and pancake & waffles flavors added this year. Bakery flavors are becoming their sweet spot and include lemon cake, birthday cake, oatmeal cookie, cinnamon roll, and pumpkin pie flavors.
Protein Power
According to a recent Mintel report, 75% of consumers have either tried to or would like to include more protein in their diets.1 Mintel also reported that consumers now consider high protein to be an element of a healthy diet. The growing consumer interest in protein is a boon to dairy processors, as milk is widely known to be a source of high-quality protein.
Last year, Halo Top become the top-selling retail ice cream pint in the country with its "good source of protein" ice cream.2 A pint of Halo Top Light Ice Cream contains 20 grams of protein (from skim milk and milk protein concentrate), while delivering only 280-360 calories. Simple Truth Low Cow Lite Ice Cream, a similar product launched by Kroger last year, is fortified with whey protein concentrate and claims 24 grams of protein per pint.
The protein trend is also growing in yogurt. Tillamook's Good & Creamy yogurts have been recently reformulated to contain 9 grams of protein per serving. Yoplait's YQ plain yogurt claims a whopping 17 grams of protein per serving, while YQ flavored yogurts claim 15 grams, through the use of ultra-filtered milk.
Techniques to boost the protein content of dairy products include ultra-filtration, centrifugation, or simply adding a protein concentrate or isolate. Concentrates and isolates can even be incorporated into a custom nutrient premix that also supplies vitamins and minerals.
Reduced Sugar
For dairy products, reduced sugar goes hand-in-hand with increased protein. Halo Top Light Ice Cream relies on ingredients like erythritol and stevia to keep its total sugars down. Yoplait's YQ yogurts claim 9 grams of sugar on the front of the package, noting that this is 40% less sugar than the leading Greek low fat yogurt.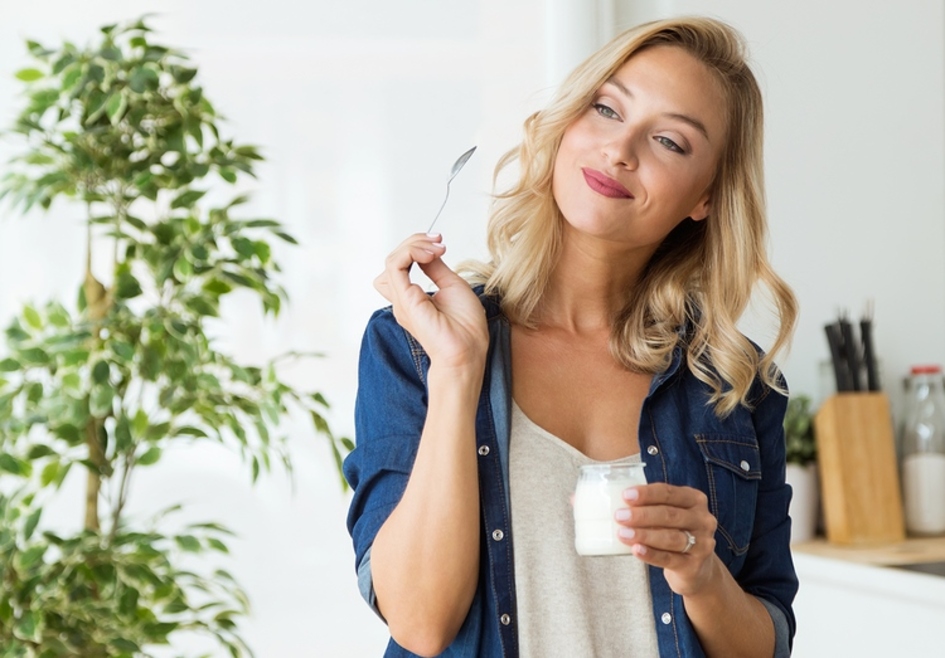 Cultured Dairy Competition
A quick look at the cultured dairy landscape reveals several companies that are betting on their products to be the next big thing. Though it's too soon to know if they can give Chobani a run for its money, manufacturers of skyr, an Icelandic-style yogurt, have been busy spreading the message about their products' benefits.
Compared to regular yogurts, skyr uses a different set of cultures and also contains more protein and less sugar. The thick and creamy texture can be compared to that of Greek yogurt, but the taste is less tart. This year, Icelandic Milk & Skyr Corporation launched Siggi's Triple Cream, a 9% milkfat version in vanilla, lemon, and raspberry. Skyr competitor Icelandic Provisions is known for producing skyr in unique flavor combinations such as strawberry lingonberry, blueberry bilberry, and peach cloudberry.
Japanese-style yogurt is another cultured option. Morinaga Nutritional Foods' Alove Japanese-style aloe vera yogurts contain pieces of aloe vera and are available in vanilla, peach, strawberry, and kiwi flavors.
Cottage cheese has also been receiving a lot of product development attention lately, in anticipation that consumers will recognize its unique value proposition as a savory option to yogurt. This year's developments include DairyPure Mix-ins by Dean Foods, which are single-serve cottage cheese cups that include fruit and nut mix-ins.
Whole Milk
Consumer preference has been shifting to whole milk products. USDA data for last year shows that whole milk sales were up by 2.4%, while sales declined for skim, 1%, and 2% milks.3 Moreover, flavored whole milk sales were up by 9.2%, compared to reduced fat flavored milk, which saw sales increase by only 1.6%.4
Cultured dairy processors have been quick to respond to consumer interest in whole milk products. DanoneWave has launched whole-milk yogurts under its Horizon Organic brand and whole-milk Greek yogurts under its Wallaby Organic brand. In addition, Tillamook County Creamery Association released a new line called Farmstyle Whole Milk Greek yogurts.
Siggi's brand now has its own whole-milk drinkable yogurts which are available in strawberry, blueberry, and vanilla flavors, while Maple Hill Creamery recently expanded its whole-milk drinkable yogurt line to include mango peach, strawberry, and coffee flavors. Good Culture Cottage Cheese is using whole milk in its new natural and organic lines.
Premium
Premium dairy continues to be a bright spot for the dairy industry. Premium encompasses factors such as sustainability, animal welfare, nutrition, health, and quality. It might be achieved through special ingredient sourcing (e.g., grass-fed, organic, or a2 milk—which is sourced from cows with milk low in A1 beta-casein) or through special processing (e.g., lactose-free, ultra-filtered, or artisanal processes).
Craft cheeses, which rely on small-scale, traditional processing are especially popular right now due to their unique and high quality flavors. Market research continues to show that consumers are willing to pay more for premium foods and beverages.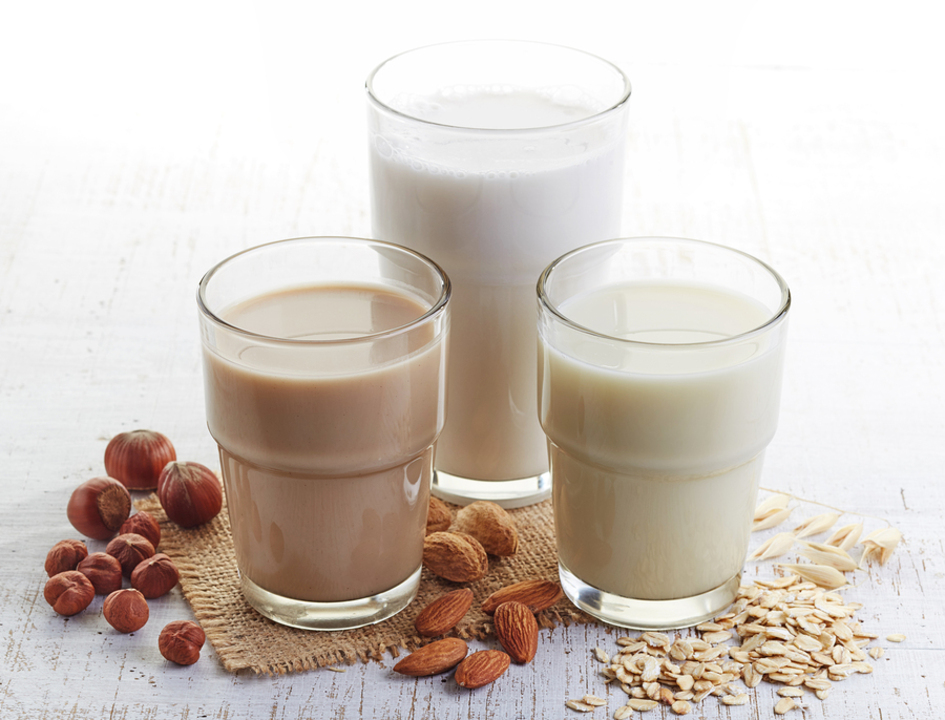 Plant-Based Milks
From soy milk to almond, coconut, pea, and flax milks, plant-based milks are now very much at home in the milk aisle, making the space increasingly competitive. Recent activity in this area includes dairy giant Dean Foods' acquisition of a majority stake in Good Karma Foods, maker of flax milk and flax yogurt.
Good Karma's yogurt claim of "Nut, Soy & Dairy Free!" may signal a new direction for plant-based milk products. Good Karma also has a protein and omega-3 fortified line of yogurts. A custom nutrient premix is an easy way to add nutrients like omega-3s to dairy or plant-based milk products.
The Future of Dairy
Other trends in dairy that are going strong include clean label, environmentally sustainable, and anything single-serve and portable. Hybrid snacks, such as packages of snack cheeses that include other snack foods (like nuts, pretzels, dried fruits, and chocolate) continue to do well, with recent expansions seen in Horizon Organic's Good & Go packs, Kraft Heinz Snack Trios, and Sargento Foods' Balanced Breaks.
Innovation is clearly driving success in dairy. Exciting flavors, better-for-you nutrition, and convenience through single-serve packaging, portability, and the inclusion of mix-ins are keeping dairy fun and relevant to today's busy, but health-conscious consumers.
As a leader in nutritional ingredients, Watson can help you boost the nutrition of your products with trending ingredients like protein, omega-3s, vitamins, minerals, and fiber, all in one convenient custom nutrient premix. Make your dairy products even better with Watson!
Click to watch our video on choosing a Custom Nutrient Premix supplier.
---
References
1. Mintel. (2018). Resolution Resolve: More Than Half of Americans Report Living Healthier in 2017. Retrieved from http://www.mintel.com/press-centre/social-and-lifestyle/resolution-resolve-more-than-half-of-americans-report-living-healthier-in-2017
2. Business Wire. (2017). Halo Top Creamery is Now the Best-Selling Pint of Ice Cream in the United States. Retrieved from https://www.businesswire.com/news/home/20170731005214/en/Halo-Top-Creamery-Best-Selling-Pint-Ice-Cream
3. DairyBusiness News Team DP. (2018). Trends in Beverage Milk Consumption. Retrieved from https://www.dairybusiness.com/trends-in-beverage-milk-consumption-2/
4. DairyBusiness News Team DP. (2018). Trends in Beverage Milk Consumption. Retrieved from https://www.dairybusiness.com/trends-in-beverage-milk-consumption-2/